Introduction
It is essential for software engineers to stay current with the newest trends and tools in the fast-paced technological world of today. Online learning platforms are one of the greatest methods to do this, and many experts now use YouTube for this purpose. In this post, we'll look at some of the most well-liked YouTube channels that offer free tutorials on DevOps, SRE, DevSecOps, AIOps, MLOps, DataOps, Kubernetes, AWS, Azure, Python, Google Cloud, and Microservices for software engineers.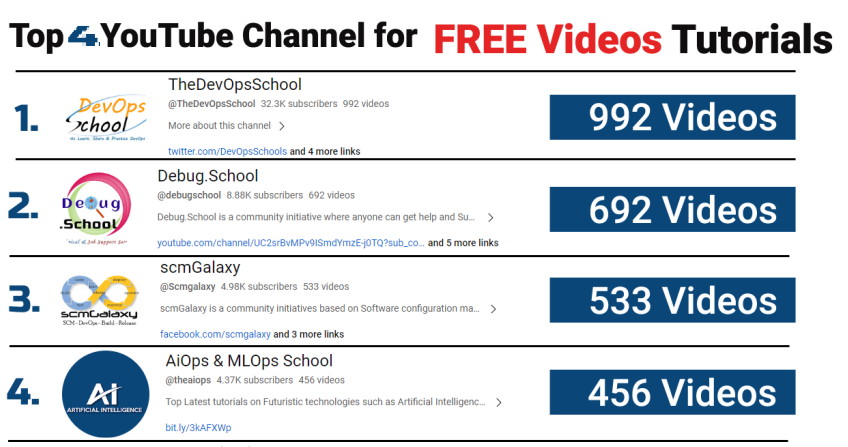 A well-known YouTube channel called DevOpsSchool instructs software engineers in DevOps techniques. DevOpsSchool offers a wide library of videos on a variety of subjects, including infrastructure automation, continuous integration, and continuous delivery. To aid learners in properly understanding the ideas, the channel offers comprehensive lessons, practical activities, and examples from real-world situations.
Another well-liked YouTube channel for software developers interested in DevOps and related subjects is scmGalaxy. An extensive course on DevOps tools, such as Git, Jenkins, Docker, Kubernetes, and Ansible, is available on this channel. The courses are clear and easy to understand, making them a great resource for both newcomers and seasoned professionals.
A YouTube channel called The AiOps & MLOps School is devoted to machine learning operations (MLOps) and artificial intelligence operations (AiOps). On this channel, software developers can find a plethora of information and useful insights if they wish to go deeper into these cutting-edge disciplines. The AiOps & MLOps School has courses on everything from deploying AI models to scaling ML systems and monitoring them.
For software engineers, the YouTube channel Debug School focuses on debugging methods, tactics, and best practices. Developers need to be proficient at debugging, and this channel offers helpful advice to assist experts fix difficult bugs and improve their code. Debug School provides a range of resources to help you improve your debugging abilities, from debugging tools to real-world case studies.